Early Life
Edit
2 years before Southwark was founded, William Thomas Benedict was born on June 11th 498 AD. He became a christian at age 11.
As a prince
Edit
William was a very nice and yet often tired prince.
Following his father's death, William became king at age 22 and ruled for 30 years. He was crowned in red and white robes. Southwark prospered under him, and a new palace was built following a fire.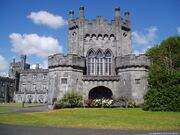 William died at age 52 from Typhus in the year 550 AD and was buried in a small cemetery.
Ad blocker interference detected!
Wikia is a free-to-use site that makes money from advertising. We have a modified experience for viewers using ad blockers

Wikia is not accessible if you've made further modifications. Remove the custom ad blocker rule(s) and the page will load as expected.